>
>
New Umami Salt Sauce Wins SIAL
New Umami Salt Sauce Wins SIAL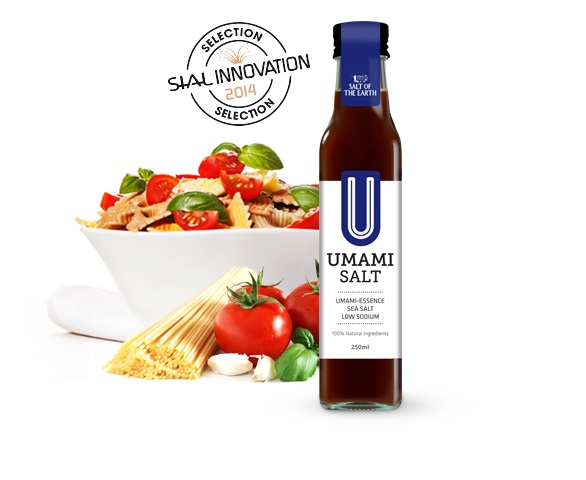 Ideal for Boosting Flavor and Reducing Sodium in Homemade Recipes
Salt of the Earth will launch its award-winning, innovative Umami-Essence Sea Salt at the upcoming SIAL, Paris, 2014 show. Umami-Essence Sea Salt is perfect for enhancing and boosting flavor in homemade recipes while helping to reduce sodium. The new, natural Umami sea salt won the SIAL Innovation Selection 2014 and is nominated for the Grand Prix SIAL Innovation 2014 (SIAL Innovation 2014 Awards).
Umami-Essence Sea Salt is a propriety liquid formula derived from tomato extract and pure salt from the Red Sea. The tomato extract provides an exquisite umami taste to emphasize and improve the rich flavor of many recipes while allowing for 30% less sodium than table salt. It was developed at Salt of the Earth's modern R&D facilities, with support from Practical Innovation, Israel, a consulting firm for developing innovative products.
"Many consumers seek solutions that will allow them to dramatically reduce sodium in their diet daily while keeping the great taste of their food," says Giorit Carmi, Marketing Manager of Salt of the Earth. "They don't want to compromise on flavor, and Umami-Essence Sea Salt can help them easily achieve this goal."
This novel, all-natural product imparts a distinctive savory taste, without monosodium glutamate (MSG). It can be applied to tomato-based sauces, including pizza, pasta, and meat sauces, as well as soups, salad dressings, and vinaigrettes and even savory cocktails. It also is ideal for seasoning meat, such as barbequed steak, roasted meat, and ground beef.
"Umami—the so-called 'fifth taste'—has become one of today's hottest culinary trends," says Carmi. "Consumers demand healthy products without MSG, and our Umami Salt fits this niche exactly. It can enhance the natural taste of every dish with its distinct umami flavor while using 30% less sodium than table salt. It can be used in or even replace soup powders that contain MSG or preservatives. Salt of the Earth is readying for launch more products and ingredients of this line in the following months."
"Umami Salt is a new addition to our innovative salt line," notes Avi Freund, Export Manager of Salt of the Earth. "We are excited to launch this innovative product in SIAL and gain international recognition, thanks to the SIAL Innovation Selection for 2014. It will be marketed to leading retailers and marketers seeking innovative products with a healthier image."
Salt of the Earth produces and markets to food manufacturers and retailers worldwide advanced sodium-reduction and low sodium salt ingredients and final products made from natural salt harvested from the Red Sea. Salt of the Earth is a deep-rooted, renewal-focused company. It developed a sustainable strategy to implement the management commitment for the environment, community, and its employees.