>
>
Innovative Salt Products Won SIAL Innovation 2014
Innovative Salt Products Won SIAL Innovation 2014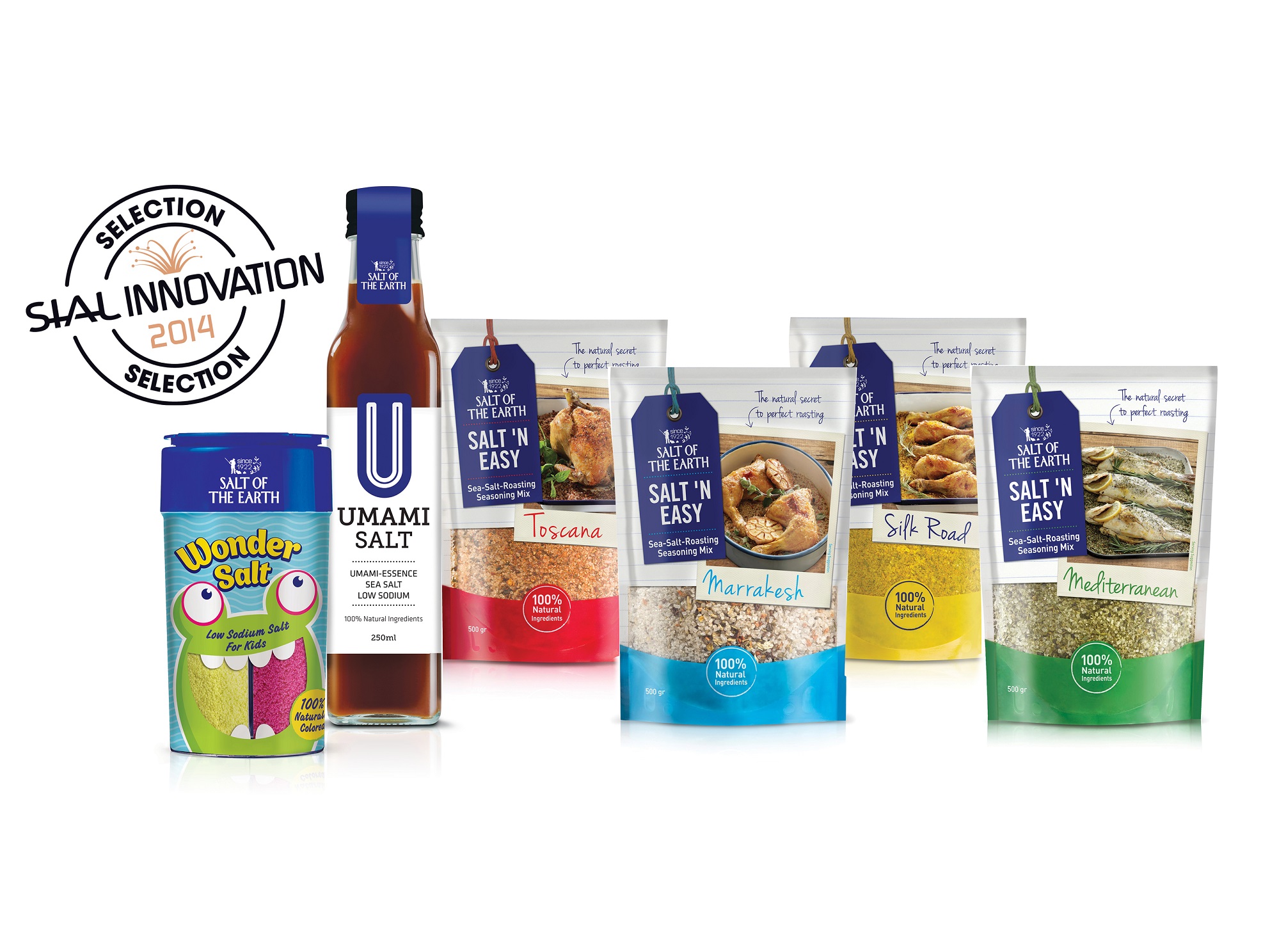 Atlit, Israel – Executing innovation strategy in developing new premium low-sodium sea salt and gourmet sea salt products for retailers and food manufacturers just paid off for Salt of the Earth Ltd. Three of the company's innovative sea salt products won the SIAL Innovation Selection 2014 awards.
All three products will showcase at SIAL, Paris, October 19-23, 2014, at the Israel Pavilion: HALL 4, Salt of the Earth booth #M020, as well as in the exclusive SIAL Innovation area. "Our strategy is to focus on outside-the-box sea salt concepts," states Giorit Carmi, Marketing Manager for Salt of the Earth. "We successfully address consumer desires to reduce sodium in the diet without giving up great taste. Our products help people create gourmet products that answer the growing demand for home-style recipes.
Through innovation and sustainability strategies, we can bring added value and increased profitability to food makers everywhere." The forward-thinking company invested two years in developing advanced product lines of low-sodium sea salt and gourmet salt products for consumers, and advanced sea salt ingredients for sodium reduction in food applications.
Practical Innovation, Israel, a consulting agency specializing in product innovation, worked with Salt of the Earth to create the products based on extensive investigation of market trends and research. "We initiated an advanced development process based on three foundations: product analysis to identify new product concepts following novel ingredients and new technologies; tracking food trends and market research, and establishing a short-time-to-market paradigm to maximize competitive advantages in the market," explains Tal Leizer, CEO of Practical Innovation. "We are very excited about this recognition by SIAL," notes Giorit Carmi, Marketing Manager for Salt of the Earth. "This is a significant step forward in building our reputation in the global food market and creating strong, long-lasting brands.
We look forward to meeting leading food retailers and distributors at SIAL 2014." Salt of the Earth's new competitive-edge product line includes:
Wonder Salt – Low sodium sea salt for kids, naturally colored with fruit and vegetable extracts. It contains 50% less sodium than regular salt and helps children control salt intake by using this fun-colored salt that allows them to see how much they are using.
Umami Sea Salt – A propriety liquid formula derived from tomato extract and pure salt from the Red Sea that can reduce the level of a recipe's sodium while boosting homemade recipe flavor via the exotic 5th taste known as umami.
Salt 'N Easy – A line of four creatively seasoned sea-salt roasting mixes for poultry, fish or vegetables. This cooking aid platform allows anyone to "cook like a chef." Just two minutes of prep helps create a delicious gourmet dish without added fat.